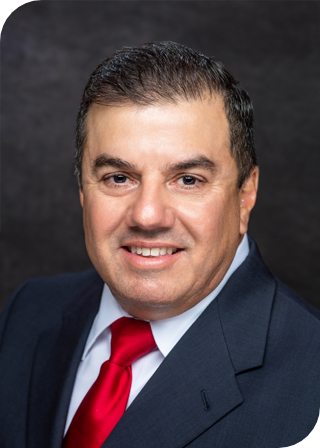 Aaron was born and raised in the Rio Grande Valley. He attended the University of Texas, Pan American and obtained a Bachelors of Business Administration Degree in Accounting in 1989 and became a licensed Certified Public Accountant in 1991. After graduating from college, Aaron took full-time employment with the Rio Grande Valley's largest locally owned accounting firm, Long Chilton, LLP (now Carr, Rigg & Ingram, LLP), where his duties included preparing financial statements, tax returns, financial and compliance audits of governmental, commercial, and banking institutions. In 1993, he entered St. Mary's University School of Law in San Antonio and graduated with honors in 1996.

Upon graduation from law school, Aaron began employment with a large law firm in the Rio Grande Valley, where he represented various clients including, insurance companies, banking and financial institutions, commercial establishments, land owners and developers, and many other various establishments, many of which were national companies. In 2000, Aaron started his own law practice, consisting primarily of personal injury and commercial litigation both plaintiff and defense work. In 2020 Aaron joined Ellis Koeneke & Ramirez, LLP.

Aaron has been mediating cases for more than 15 years, with well over a 90% success rate. As a Certified Public Accountant and Certified Valuation Analyst, he has been served courts as mediator, receiver, discovery master, and many other judicial appointments to assist county courts and district courts in various complex matters.

His primary practice areas include general civil trial law, including personal injury and tort cases, family law, collections, contract disputes, accounting negligence/malpractice, business and commercial litigation, condemnation proceedings, various other civil matters, and court appointed receiverships. Practice includes both Plaintiff and Defense representation.

Aaron is the former president of the Hidalgo County Bar Association and has also devoted a substantial amount of time over the last two decades helping the youth of Hidalgo County. He has served as the President of Hidalgo County's youth livestock show, South Texas Agricultural Roundup (STAR) - a junior livestock show whose primary goal is to benefit the 4-H and FFA members of Hidalgo County. STAR has raised millions of dollars since its inception in 2003. He has also served as president of St Joseph Catholic School board; Vice President of Texas Deer Association – Region 8; Board member of Hidalgo County Emergency Services District No. 3; Parish Council President for St. Joseph Catholic Church; President of Edinburg North FFA Booster Club, and numerous other organizations.
Location:
1101 Chicago Ave.
McAllen, Texas 78501
Contact:
Tel: 956.682.2440
Fax: 956.682.0820
E-mail:
---
---